Annual Candlelight Horse-Drawn Carriage Parade - 11/23/13 at 6:00pm!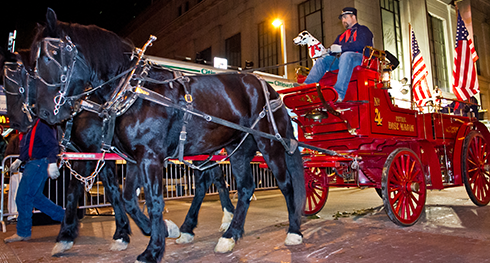 Santa Claus Officially Arrives in Illuminated Equine Parade Benefitting Operation Santa Claus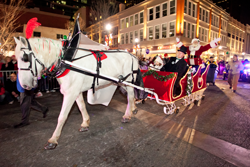 The 4th Annual Trib Total Media Candlelight Horse-drawn Carriage Parade heralds the kick-off of Downtown Pittsburgh's Holiday Season on Saturday, November 23 at 6:00pm. The unique illuminated all-equine parade is part of Trib Total Media's ongoing commitment to the community and to help raise awareness of Operation Santa Claus, a cooperative effort by Trib Total Media, the Salvation Army and Shop N Save. Since 1984, the Operation Santa Claus campaign has raised millions of dollars to provide complete holiday dinners to hundreds of thousands of needy families across Southwestern Pennsylvania.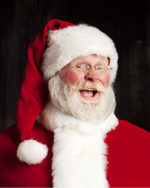 Strike up the bands! Area marching bands playing the sounds of the season will lead the grand illuminated parade down Liberty Avenue. Resembling a Currier & Ives post card, more than 100 horses will pull 30 decorated carriages including Cinderella's Pumpkin, an antique horse-drawn bus, covered wagons and more. And the Jolly Big Guy, Santa Claus, will officially arrive in his shiny red sleigh! The Parade will include the Honor Guard, Pipe Band and antique horse-drawn fire units from the Tournament of Roses Parade in a memorable tribute to the Pittsburgh Bureau of Fire. The stunning line-up includes horses of all sizes from majestic Clydesdales to adorable miniatures and mounted riders, along with sports celebrities, the Pirate Parrot, Pierogies, Iceburgh, and Mr. McFeely.
Parade Route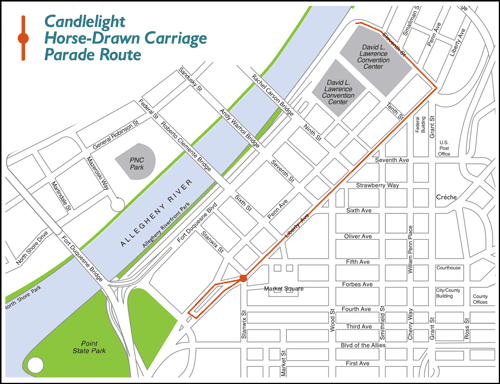 Parade will begin at the David L. Lawrence Convention Center, turning right on 11th Street, turning right on Liberty Avenue and will travel along Liberty Avenue towards Point State Park.
Sponsor and Contact Information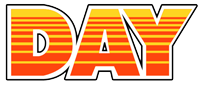 Contact: Ida D'Errico
724-260-5331-Office
412-965-0570-Cell
iderrico@comcast.net
Contact: Lindsay Berdell-Trib Total Media
412-320-7872-Office
lberdell@tribweb.com