Soup for a Claus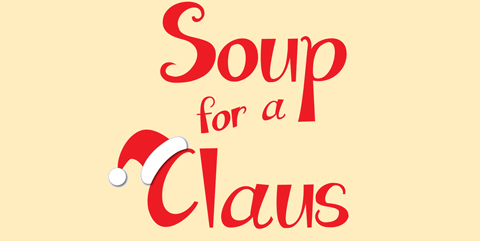 4th Annual Soup for a Claus
Saturday, November 4, 2017
Noon - 3PM
Registration Opens at 11AM.
Come and enjoy the start of the holiday season with soups from your favorite local restaurants and visit your favorite local retailers!
Click here to order tickets, click here to download and mail order form, or call 412-320-7956.
Tickets must be purchased in advance. Tickets will not be mailed!
You will receive a confirmation of your order once payment is received. Please bring your order confirmation to the Registration Area (located in the lobby of the Seton Hill Arts Center, 201 W. Otterman Street, Greensburg) starting at 11 AM on Saturday, November 4 to retrieve your wristbands.
Street parking is available; guests can also park in the Greensburg City Parking Garage located at 106 W. Otterman Street.
Restrooms will be available in the Seton Hill Arts Center.
2017 Restaurants and Retailers to be added soon!
2017 Participating Restaurants (additional restaurants will be added as they are confirmed!):
Doug Oster – EverybodyGardens
Meghan Rodgers - EverybodyCraves
Oliver's Pourhouse
J.Corks
Greensburg Country Club
Bean & Baguette
The Olde Spitfire Grille
Foggy Mountain Lodge
Sun Dawg Café
Connections Café
Jaffre's Restaurant
Caffé Barista
The Boulevard Restaurant
Rizzo's
2017 Participating Retailers/Organizations:
Penelope's
Mancuso's
Lapels, A Fine Men's Clothier
DV8 Espresso Bar & Gallery
Crossroads Boutique
Artisans of Hand & Heart
Bella Unique Boutique
Descendants
Beeghley & Company
Personalized Colors
Treasures from the Attic
60 Minute Missions
Westmoreland Cultural Trust
Serenity Bead Shop & Studio
The Shepherds Keeper at Kinderhook
Mike's Framing & Art
Pottery Playhouse