Soup for a Claus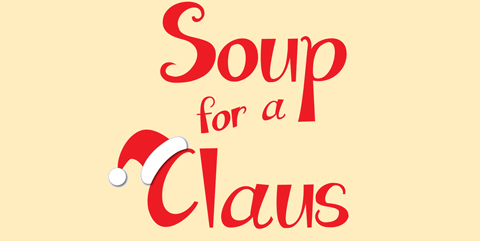 4th Annual Soup for a Claus
Saturday, November 4, 2017
Noon - 3PM
Registration Opens at 11AM.
Come and enjoy the start of the holiday season with soups from your favorite local restaurants and visit your favorite local retailers!
SOLD OUT!
IMPORTANT IMFORMATION:
This is a pre-registered event – no tickets will be sold at the doors
Registration begins at 11 AM and is located at the Seton Hill Visual Arts Center which is on the corner of W. Otterman Street and College Avenue
-At registration you will receive a map with the participating retailers along with the restaurants they are paired with and a list of soups
Free parking is available at any of the meters and a $1.00/hour charge at the Robert A. Bell Garage located on W. Otterman Street
This event is rain or shine, so be sure to dress accordingly
Wear comfortable shoes, there is a good bit of walking
Thank you in advance for your support in Soup for a Claus benefitting Operation Santa Claus! If you have any questions, please feel free to contact Allie McCartney by phone at 412-320-7956 or via email at amccartney@tribweb.com.
2017 Participating Restaurants (additional restaurants will be added as they are confirmed!):
Doug Oster – EverybodyGardens
Meghan Rodgers - EverybodyCraves
Oliver's Pourhouse
J.Corks
Greensburg Country Club
Bean & Baguette
The Olde Spitfire Grille
Foggy Mountain Lodge
Sun Dawg Café
Connections Café
Jaffre's Restaurant
Caffé Barista
The Boulevard Restaurant
Rizzo's
Mountain View Brew Café
2017 Participating Retailers/Organizations:
Penelope's
Mancuso's
Lapels, A Fine Men's Clothier
DV8 Espresso Bar & Gallery
Crossroads Boutique
Artisans of Hand & Heart
Bella Unique Boutique
Descendants
Beeghley & Company
Personalized Colors
Treasures from the Attic
60 Minute Missions
Westmoreland Cultural Trust
Serenity Bead Shop & Studio
The Shepherds Keeper at Kinderhook
Mike's Framing & Art